December 17th, 2011
Posted by sasha in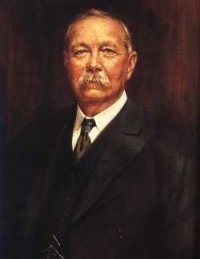 This page will focus on Sir Arthur Conan Doyle's inspiration and writing of Sherlock Holmes.
The Sherlock Holmes stories were inspired by a teacher, Dr. Joseph Bell. He was "one of the teachers at the medical school of Edinburgh University. Arthur Doyle was seventeen years old when he first met Dr. Joseph Bell, who was then thirty-nine. The doctor left an indelible impression upon the young student."
"Conan Doyle dedicated The Adventures of Sherlock Holmes to Dr. Bell, who gave credit to the author for Sherlock Holmes's genius. "You are yourself Sherlock Holmes and well you know it," he wrote him."
-From the official web site of the Sir Arthur Conan Doyle Literary Estate.
Sir Arthur Conan Doyle famously killed off his detective after he tired of writing the stories. But due to popular demand, he started writing them again. He thought that detective stories weren't real literature, and he wanted to focus on his non-fiction works.
"A Scandal in Bohemia" is the first Sherlock Holmes short story, written after the novel, "A Study in Scarlet" where he first appears. Quick Fact! Sir Arthur Conan Doyle listed, "A Scandal in Bohemia" as his 5th favorite Sherlock Holmes story that he's written. : )
http://www.sherlockholmesonline.org/SherlockHolmes/index.htm
http://sirconandoyle.com/biography-of-sir-arthur-conan-doyle/